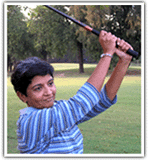 Achievements
Thirty one years experience as a golf instructor – all skill levels Tour Pros to beginners since 1989
Winner of National Championship (India) – 1983
LPGA Master Professional with Thesis on golf-related injury – 2018
PhD biomechanics & anatomy; MS sports science & nutrition
Inventor Minimalist Golf Swing System – world's only scientific, highly-researched swing system
Author of instruction e-book titled 'DIY (do-it-yourself) GOLF' – sold on website 2006
Author, Teaching Manual, National Initiative for Golf in Schools (NIGS – India).
Columnist, Golf Digest India Magazine, 2003 – 2013
Golf Writer (13-year column for Mid-Day, India; also articles for every major Indian Publication) since 1985
Golf Science Writer/Columnist for Avid Golfer Magazine and some US-based websites – since 2015
Teaching Experience
Have been an instructor to all skill levels of golfers since 1989 – LPGA Legends Tour, PGA of America Gateway section Golfer of the Year, Long drivers, seniors, women, juniors, beginners.
Golf Instructor at Don Knabe Golf Center, Norwalk, CA.

Golf Instructor at Golf by George, Denton, TX.

Teaching Professional at Oak Brook Golf Club, Edwardsville, Il
Teaching Professional, Sunset Hills Golf Club St Louis, MO
Head Professional at Triple A Golf and Tennis Club, St Louis, MO
Teaching Professional at four clubs in Mumbai, India since 1989
Coach to the United Services' Club Inter-Club Championship Team 2006
Golf Instructor at Peggy Kirk Bell's Golfari Schools at Pine Needles, NC, USA 1995
Designed layout for, and taught golf at, India's first indoor golf facility at Landmarc Citi, Mumbai 2002
Taught golf to local and regional level winners of World Long Drive Championship since 2007
Conducted PGA of India's National Junior Coaching Camp, Pune 2008
Golf Professional for First Tee of St Louis and The PGA of America Gateway Section Jr Camps 2006 – 09
Golf Swing Research
Summer Internship at American Sports Medicine Institute studying biomechanics of sports injury 2014
Mini-study at PGA of America's Golf Learning and Performance Center 2010
Hooters' Tour demo – A Science-based swing-template improves ball-flight tracked on Doppler radar 2010
Golf industry funded research in collaboration with Washington University in St Louis 2007
Golf industry funded swing research in collaboration with St Louis Univ., USA 2006
Golf Digest Magazine aided research on quick improvement of women's swings 2004
European Congress of Sports Sciences – poster accepted 2003
The PGA, The Belfry, U.K. – Conducted 2-week research on a scientifically correct golf swing 1997
Golf Publications; Conference and Workshop Presentations
Types and Causes of Golf Swing-related Injury – a literature review published in the Journal of Athlete Centered Coaching 2019
Swing Change for Senior Golfers – published in International Journal of Sports Science and Coaching 2018
Golf biomechanics webinar presentation to LPGA Teachers 2015
Oral Paper at World Scientific Congress of Golf (WSCG) 2012
Symposium (jointly with biomechanists) 'Science-based Methods Improve Ball Flight (WSCG) 2012
Workshop 'Correct Positioning of Body-Joints to Improve Golf Ball Flight' (WSCG) 2012
Seminar 'Golf Swing Evolution based on Anatomy' at 'Golfer and the DC' by Motion Palpation Institute 2012
Seminar for PGA of America's Gateway Section 'Bringing Science to the Golf Swing '2011
Seminar for Students of MS in Sports Science of Logan Univ.'Bringing Science to the Golf Swing '2011
PGA of Asia Second Golf Conference, speaker, "Human Anatomy in the Golf Swing '2011
PGA of Asia First Golf Conference, speaker, 'Bringing Science to the Golf Swing '2010
Workshop for Indian Tour Pros 'Biomechanics; Physiology; Fitness Principles for Better Ball-Striking '2009
Exhibited a more effective and scientific golf swing (Booth 1880) at PGA Merchandise Show 2008
Conducted LPGA Workshop – 'How to Analyze and Improve Ball Flight '2008
Third World Scientific Congress of Golf, St. Andrews, Scotland – 3 research-based posters 1998
Second World Scientific Congress of Golf – Oral Paper 'One Move to Better Ball Flight'1994
Professional Affiliations
Master Professional, The LPGA (Teaching Division)

Invited member Phi Kappa Phi Academic Honors Society

Class A Member and Member Board of Management, The PGA of India

Class A Member and Teaching Staff, The National Golf Academy of India

Member, Golf Writers' Association of America

Advanced Golf Professional, The PGA, U.K 1995 – 2016

Certified Personal Trainer, American College of Sports Medicine 2009 – 2012

Certification: Collaborative Institutional Training Initiative Human Subjects Research
Education
Ph.D. in Kinesiology                                                                                                                        2019
Texas Woman's University, Denton, TX                                                                                           GPA 4.0                   
Biomechanics with minor course-work in Structural Anatomy & Rehabilitation Sciences, Sports Coaching
Master of Science in Nutrition & Human Performance                                                             2014
Logan University, St. Louis, MO                                                                                                     GPA 4.0, Summa Cum Laude                                          
Emphasis in Sports Science and Rehabilitation.
Thesis: Intrinsic and Extrinsic Factors Associated with Golf Long-Driving Distances for Long Drivers of USA and Tour Players of India.
 Bachelor of Science                                                                                                                                                                                                                                          St. Xavier's College, Bombay University, Mumbai, India.                                                           1976                                                 
Physics with a minor in Mathematics
Honors and Awards
·      First place prize for TWU book-in-commons essay contest for graduate students                            
·      Chancellor's Student Research Scholarship for "outstanding achievement in research"              
·      Phi Kappa Phi "Love of Learning" TWU Chapter student scholarship for research                        
·      By invitation member national Honor Society Phi Kappa Phi                                               
·      TWU Innovation Week. First Place Scholarship ($500)                                                        
.    Logan STAR Award from Logan University Alumni Association ($500)